In order to assemble the shoulder you have to print all parts in shoulder printing manual, the clavicles and the following non-printable parts from our pib kit.
16 M3 8mm screws
14 M3 10mm screws
11 M3 12mm screws
4 M3 16mm screws
5 M3 20mm screws
4 M3 22mm screws
4 M3 25mm screws
3 M3 40 mm screws
46 M3 nuts
3 DS3240 MG 40kg.cm servos
1 MG996R 11kg.cm
4 metal servo clamps
2 Thrust_bearing_70x50x1
2 Ballbearing_Axial 70x50x3
2 Ballbearing_60x78x10
1 Thrust_bearing_95x70x6
Insert 4 M3 nuts into Shoulder_head-C1 and attach DS3240 servo using 4 8mm M3 screws.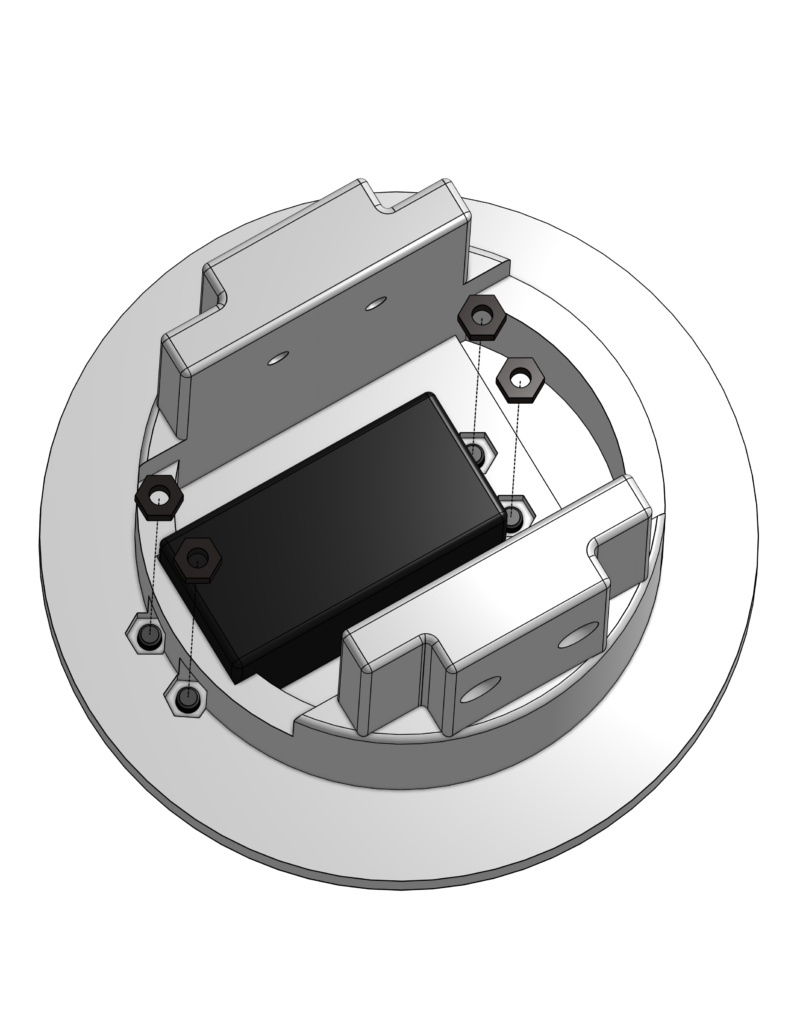 Insert the assembly from step 1 into the hole in Clavicle_left-B1 or Clavicle_right-B2 and putting Thrust_bearin_95x70x6 (consists of 1 axial bearing (4mm thick) and 2 simple disks (1mm thick)) in between.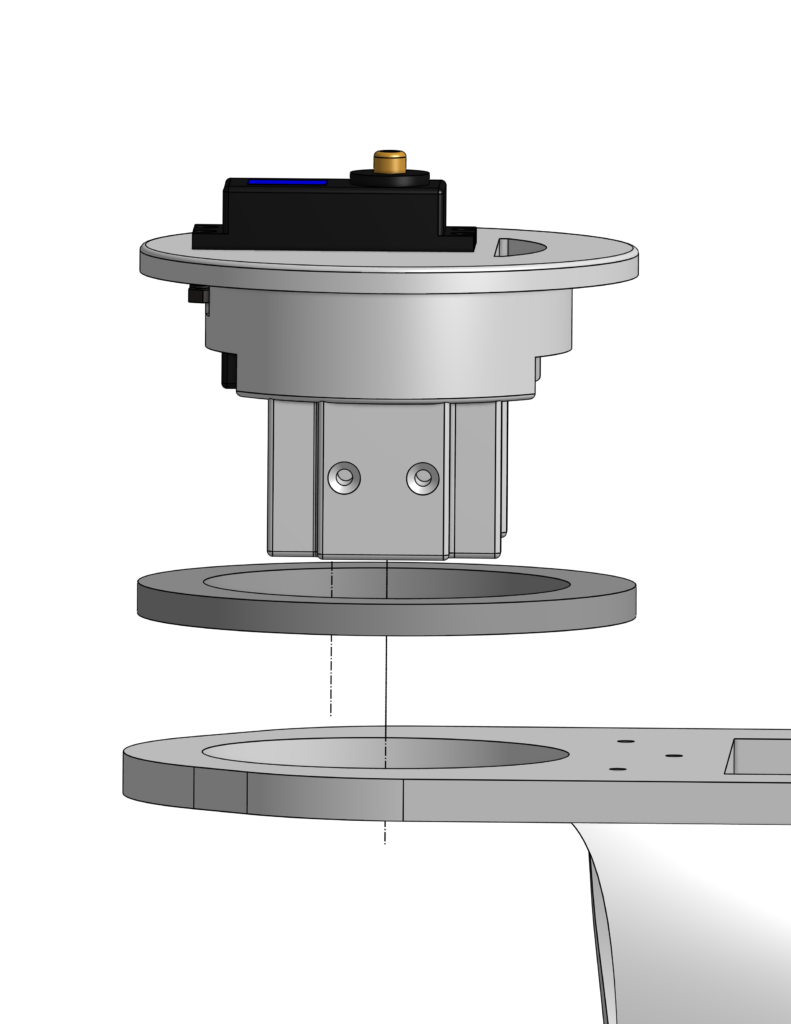 Insert 3 M3 nuts in the shown spots in clavicle, attach motor clamp to DS3240 servo, insert M3 nut into Shoulder_horizontal_motor_mount-C29, finally attach Shoulder_horizontal_motor_mount-C29 to clavicle using 3 40mm M3 screws and 1 12 mm screw into the motor clamp.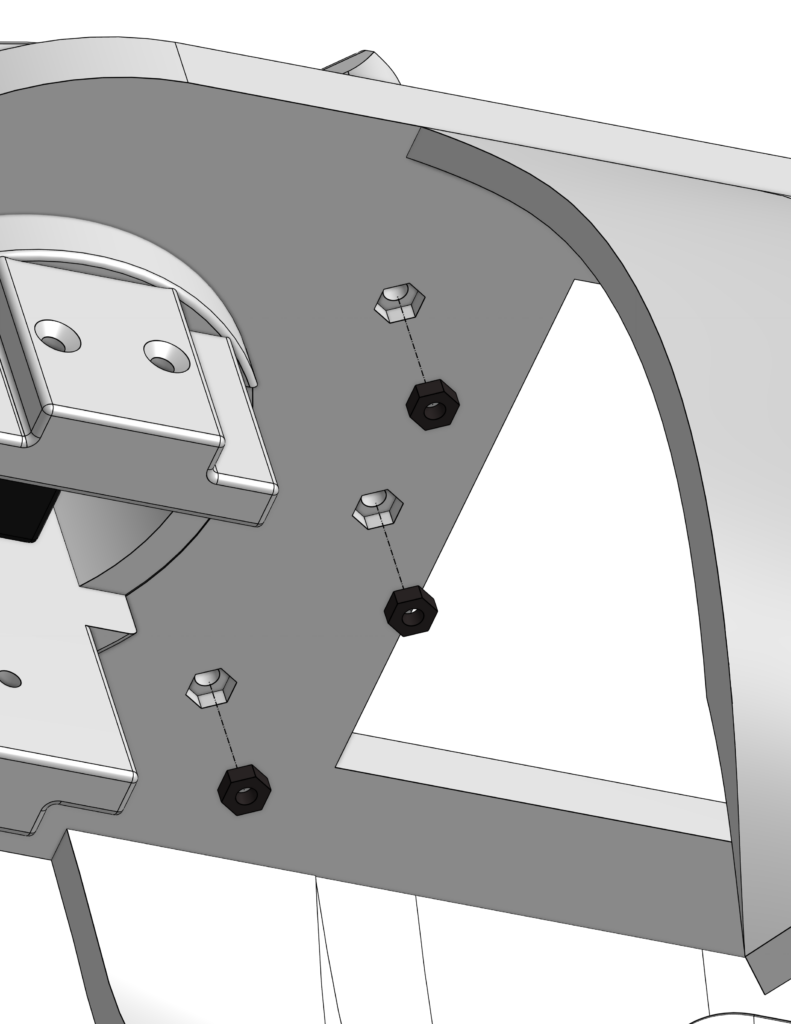 Attach Shoulder_base-C2 to Shoulder_head-C1 using 4 M3 nuts and 4 20mm M3 screws.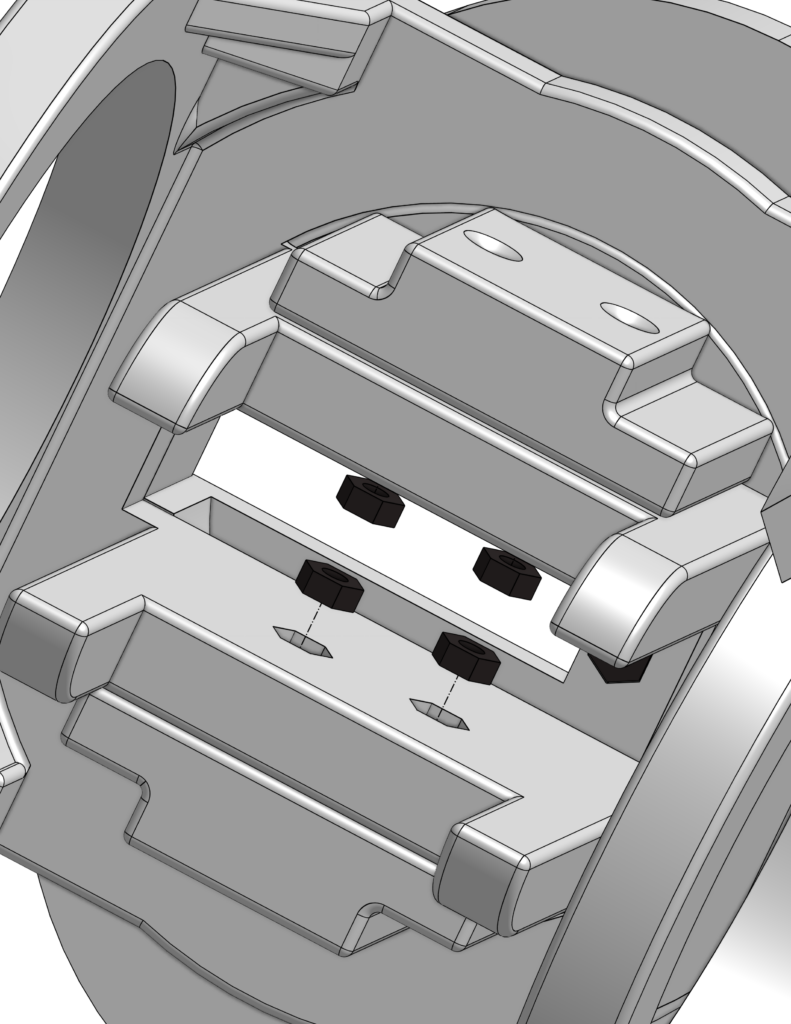 Place motor clamp and 60x78x10 ball bearing on Shoulder_rotator-C3, then attach DS3240 servo into the motor clamp, fix them together using 2 12mm M3 screws, insert the assembled rotator into Shoulder_base-C2 as shown.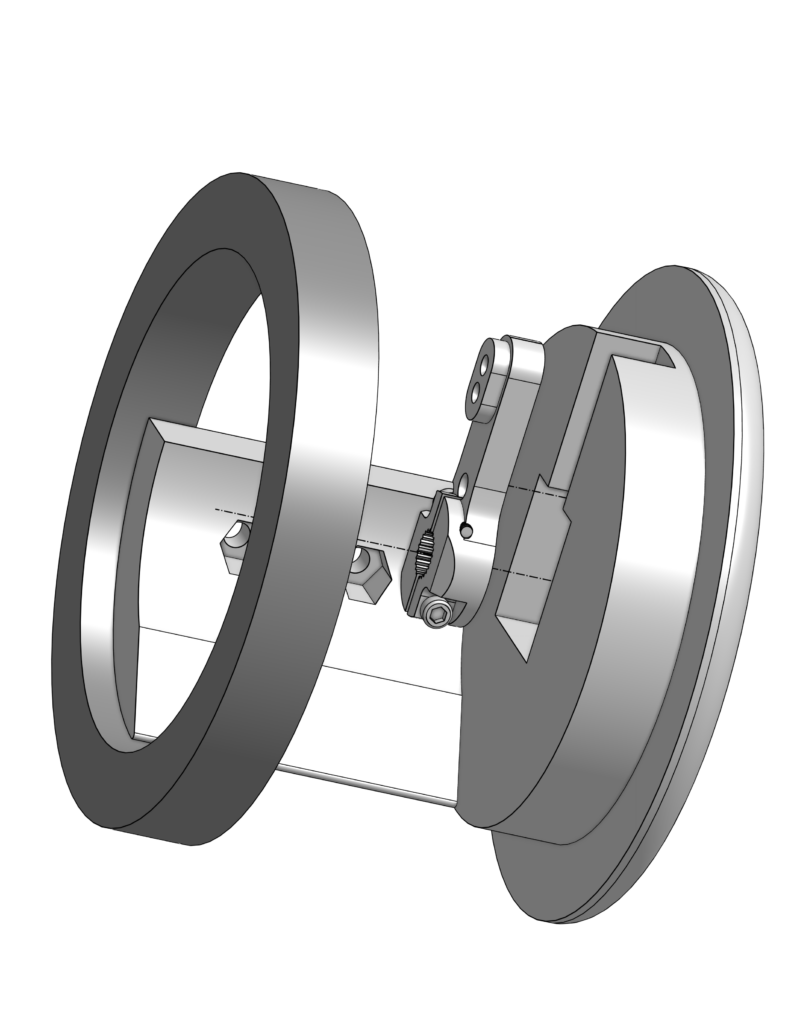 Slide Shoulder_arm_inner_connector-C5 into Shoulder_rotator-C3 and fix them using 2 M3 nuts and 2 16mm M3 screws.
Connect Shoulder_arm_inner_connector2-C30 to Shoulder_arm_inner_connector-C5 using 1 M3 nut and 1 20mm M3 screw.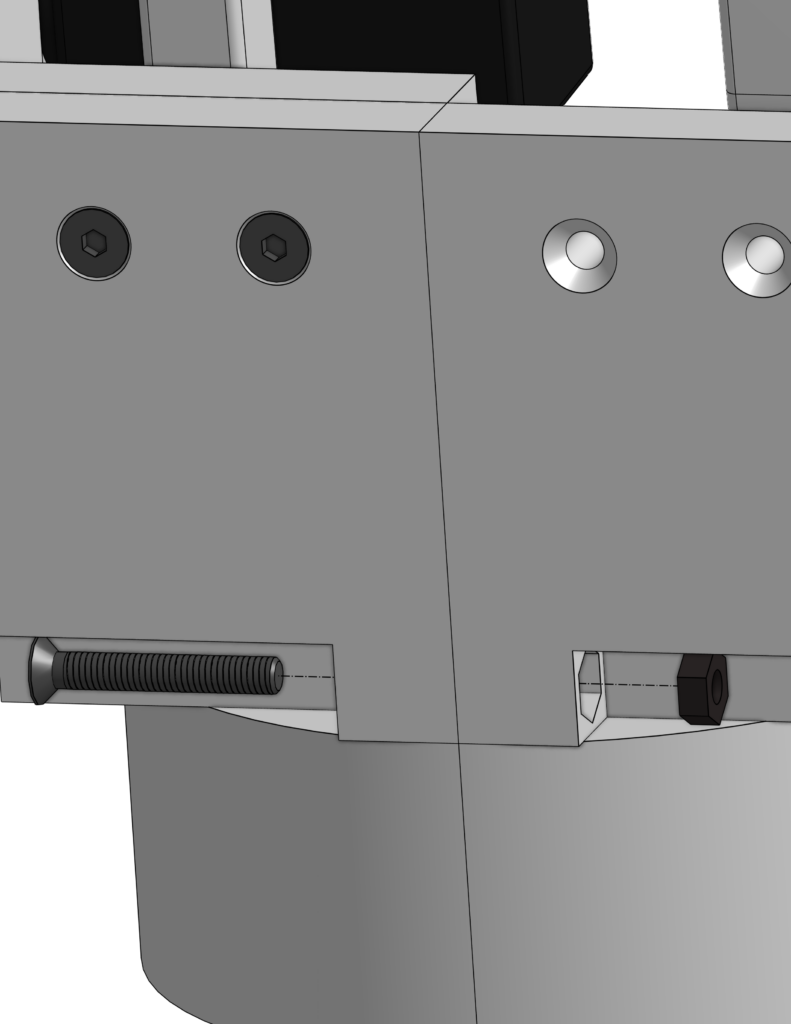 Repeat step 5 on the other side to have an assembled Shoulder_base-C2 with shoulder rotators, while sliding into the Shoulder_arm_inner_connector-C5 from the previous step and assemble them using 2 M3 nuts and 2 16mm M3 screws like step 6. (clavicle is hidden to have a better view)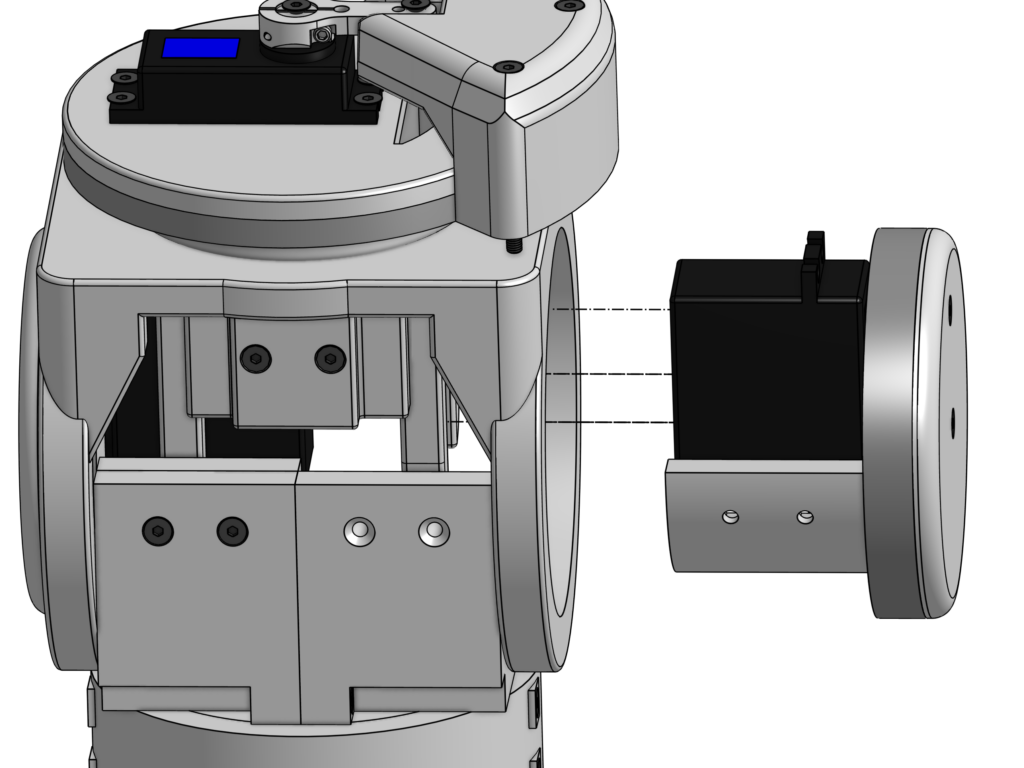 Attach Arm_shell_lateral_major-C27 to Shoulder_arm_inner_connectors using 4 M3 nuts and 4 25mm M3 screws.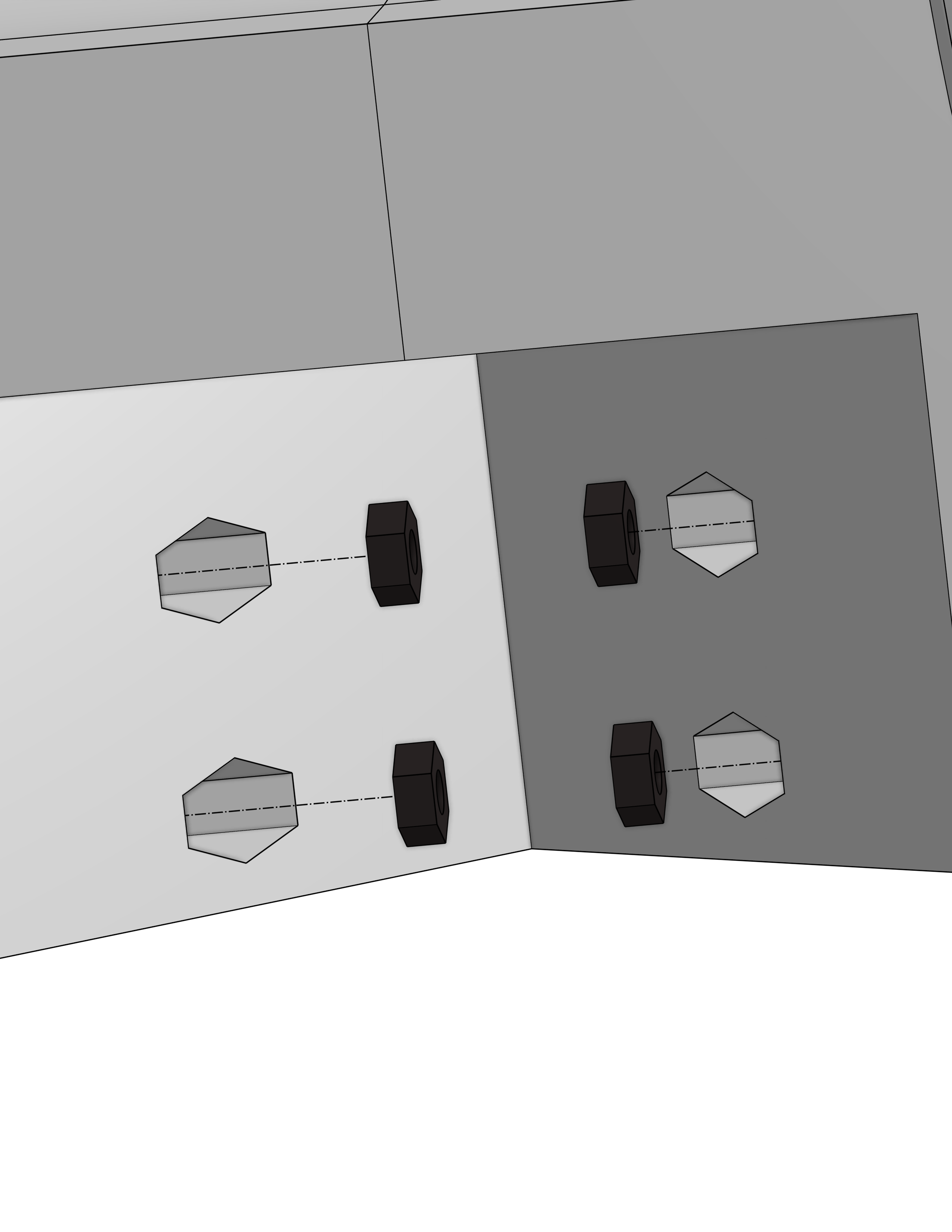 Connect MG996R to Central_rotator_motor_scaffold_short-C26 using 4 M3 nuts and 4 10mm M3 screws and place 4 M3 nuts in the shown spots.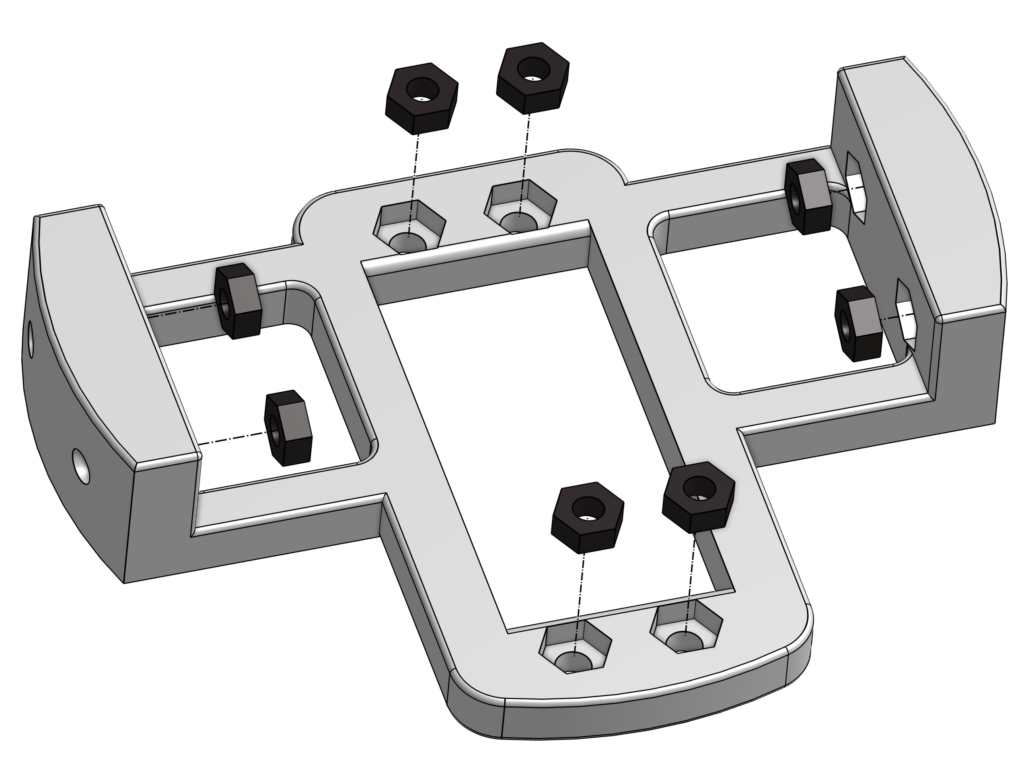 Connect the assembly from step 11 using 2 12mm M3 screws.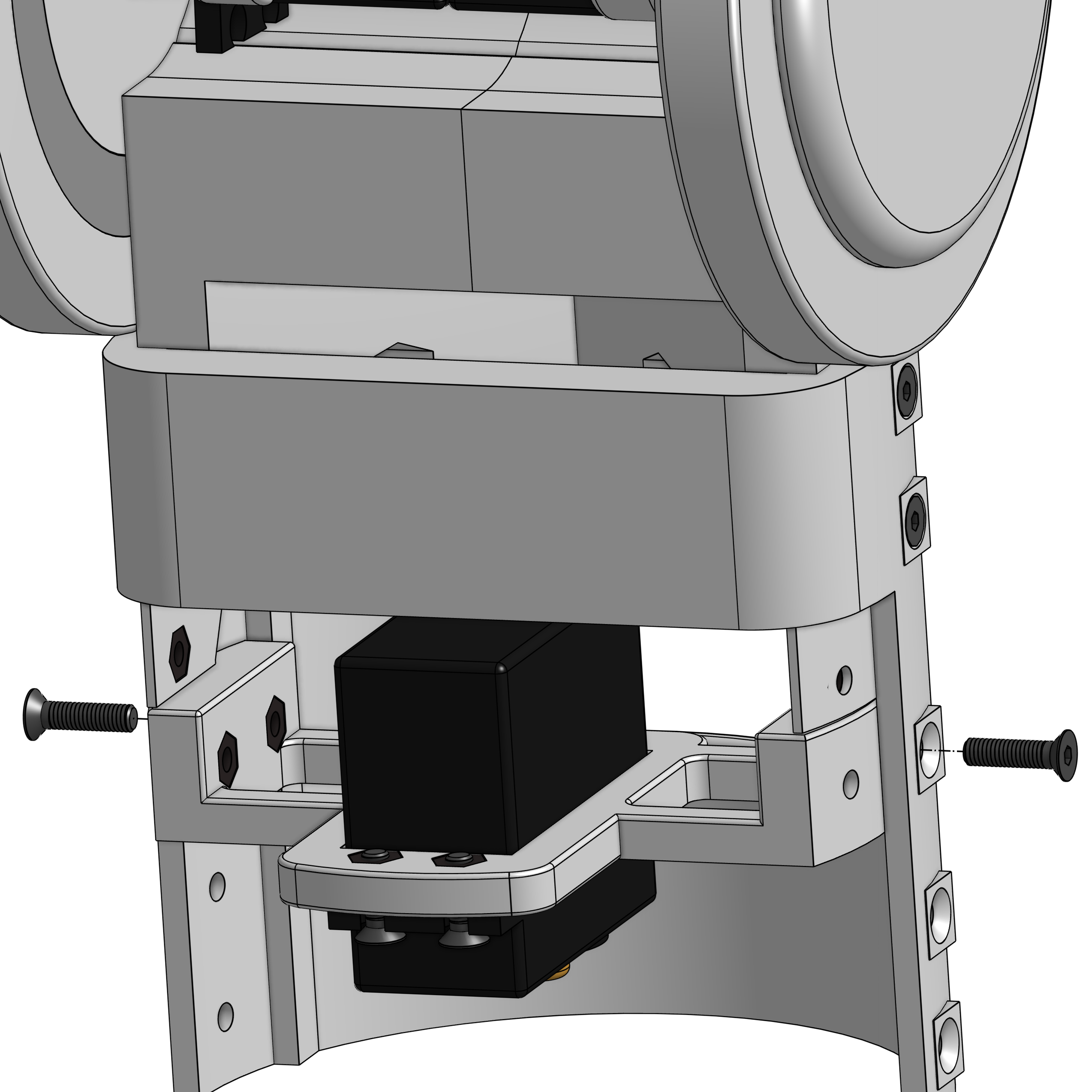 Place M3 nuts in the shown places in Central_rotator_connector-C9 and Central_rotator_motor_connector-C15, then use 2 M3 8mm screws to connect them.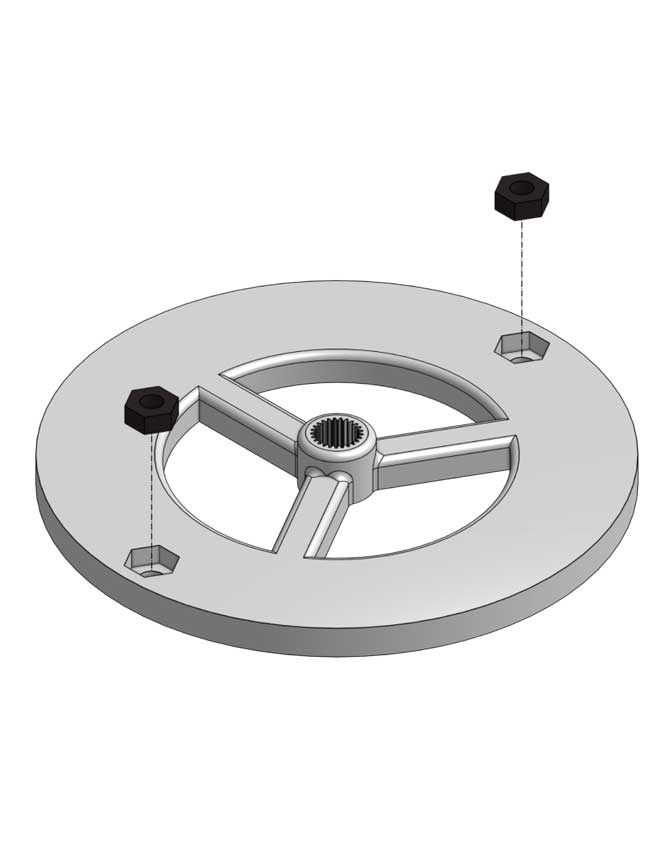 Place M3 nuts inside Central_rotator-C3 then, place axial ball bearing and its thrust bearing inside Central_rotator-C3 with shown orientation.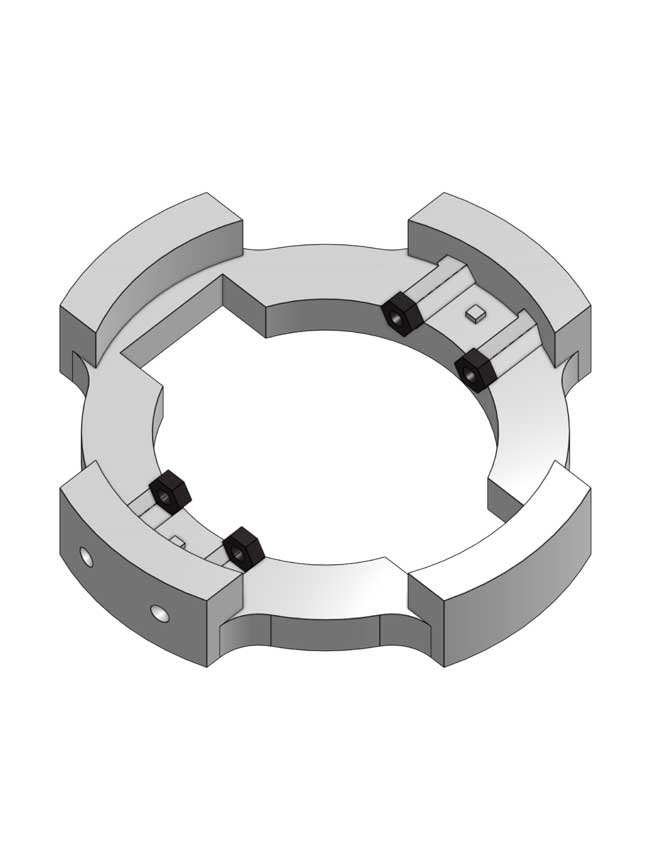 place the assembled Central_rotator-C3 from step 4 between the connected Central_rotator_connector-C9, Central_rotator_motor_connector-C15 from step 13 and Central_rotator_motor_scaffold_short-C26. Finally connect Central_rotator_motor_connector-C15 with the servo with an M3 10mm screw while pressing everything together.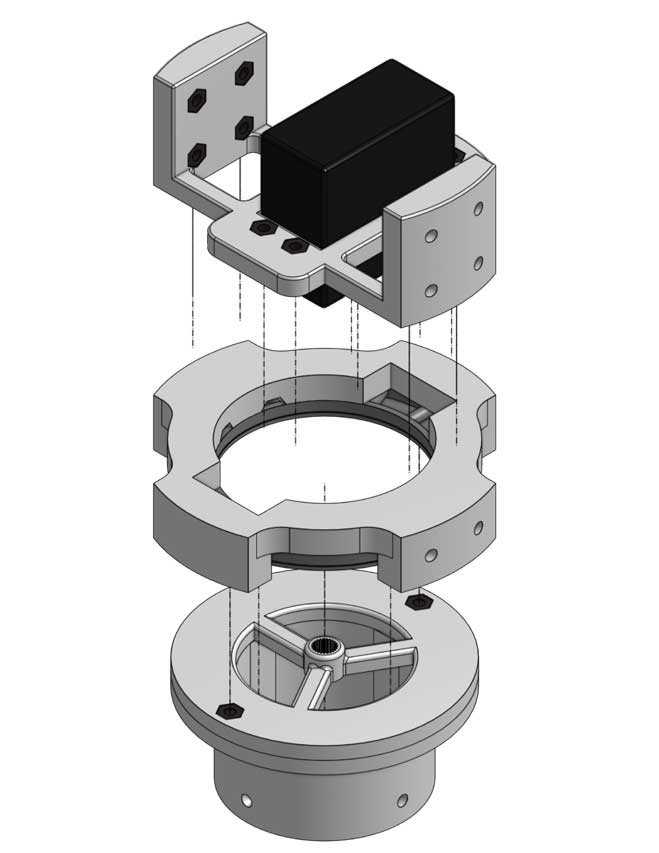 Repeat step 14 to repeat an assembly of axial ball bearing, thrust bearing and Central_rotator-C7 and place it opposite to the same part from step 15.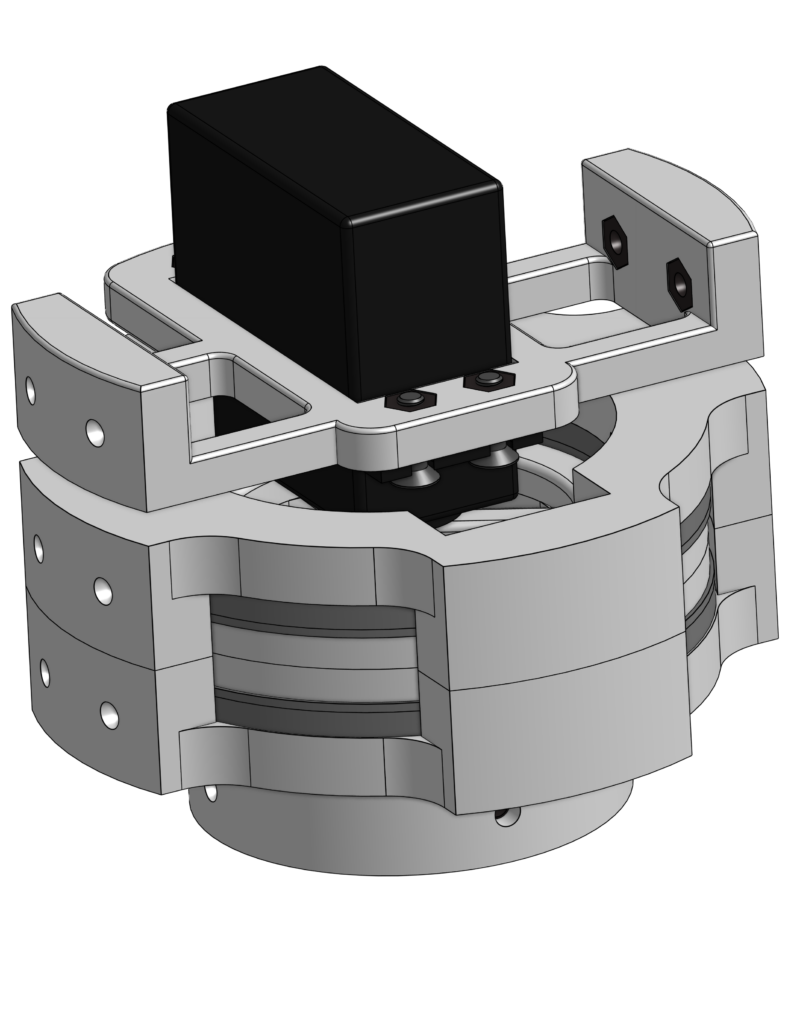 Attach Arm_shell_lateral_minor-C28 to the previous assembly. And tighten them using 8 10mm M3 screws to the bottom and 6 12mm M3 screws to the top.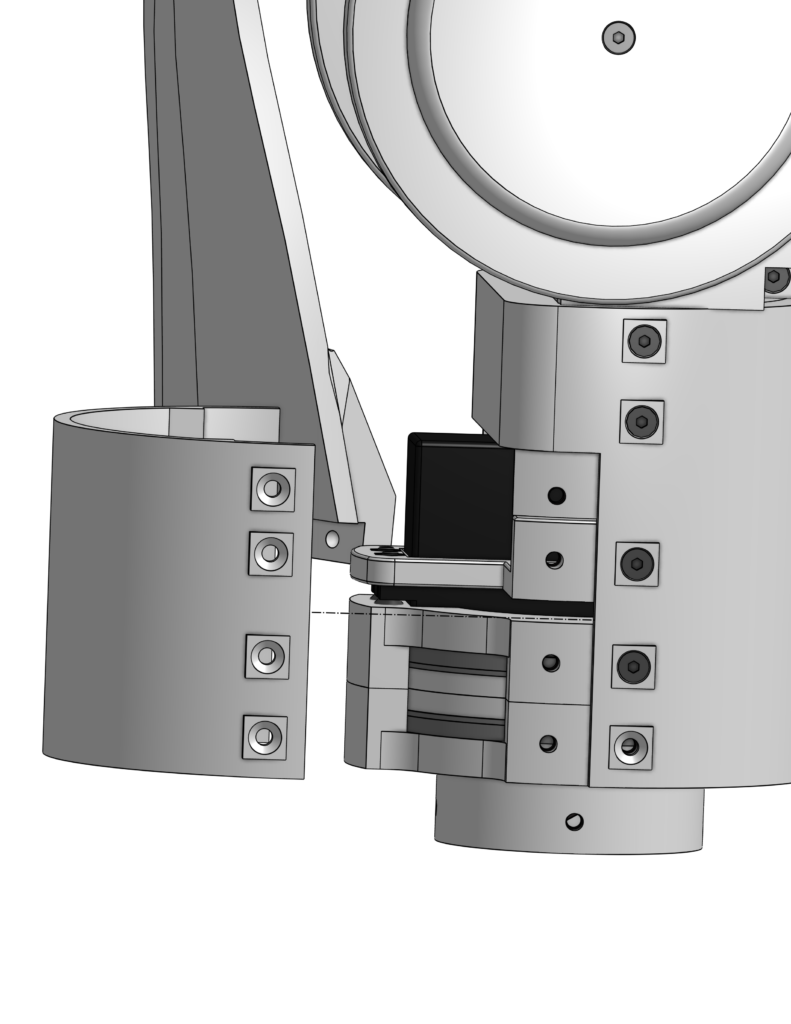 Repeat the previous steps to attach a shoulder joint to the other clavicle, then connect the 2 clavicles using 4 M3 nuts and 4 22mm M3 screws.